Hi. We hope you enjoy catching up!
Welcome and thank you for joining us. If this is your first time at The Oak, hello, we hope you enjoy our time together today.
Our plan today is to start by worshiping together at 10.30am with one of our worship leaders leading us from their home (song words will be on-screen during the live stream). After that, there'll be a time of prayer and news, followed by a short talk.
There are materials on this page for our 0-3's (The Nest), Reception to Year 6 (Treehouse) and Year 7+ (Oak Youth) to help the whole family grow together. More songs and resources for these age groups are available here.
We understand that the changes to home schedules mean you might not be able to join us for the whole morning. With this in mind, this page will be available during the week enabling you to use the resources when you can get to them.
Happy Sunday, see you at 10.30am!
News
Interested in a conversation about faith?
Alpha creates a space to have a conversation about faith, life and God over a six-week online course. If you're interested or would like to sign up, please email us.
7:7 Prayer
We launched our 7:7 Prayer Facebook page at the start of this season as a way to help facilitate prayer and serve one another in this season.We've also introduced an option of joining together on Zoom at 7am each weekday (Mon-Fri) for ten minutes. Join by clicking here - see you at 7am!
Ways to connect
Click here to see all our community WhatsApp and Facebook groups.
Family resources
You can view all of our resources by clicking here, including content from previous weeks, songs, videos and recommended books!
The Nest
God's Wonderful World Week 7
0-3's
This term in the Nest we are learning about the world around us to help us remember to be thankful for all the wonderful places God has created. This week we are looking at the Arctic!
Verse 'I will give thanks to You, Lord, with all my heart; I will tell of all Your wonderful deeds.' Psalm 9v1
Book Five Minute Bible Stories by Fiona Boon & Hayley Down (pages 71-91) (see link here). Tamsin, one of our fantastic Nest team, has recorded a video of this term's book including a Makaton signed story and song (see link here).
Songs Who's the king of the jungle - Creator God - If I were a butterfly - Praise the Lord - When I look (see the videos here) - Father God (to the tune of Old MacDonald, lyrics below, have a go at making up more verses with your child about other things you can find in the Arctic)
Father God made the world, E-I-E-I-O,
And in the Arctic He made it cold, E-I-E-I-O
With a brr brr here, and a brr brr there etc.
Activity Make your own Arctic with some pretend snow for your child to explore. This can be made using shredded white paper, rice, cotton wool or packing beads. There are also lots of recipes online for snow made with corn flour or baking powder depending what you have available. Add any Arctic animals you have and remind your child as they play that God made the snow in the Arctic - we can thank God for the wonderful Arctic.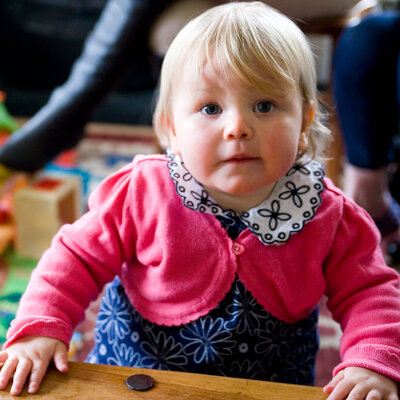 Treehouse
Explorers – The centurion's servant
Preschool - Year 6
We're continuing our explorer theme this week; I'm praying these tools can help us as we teach our children more about Jesus.
This story is about a Roman centurion, a military officer in charge of around 100 soldiers. These were authority figures for a brutal foreign empire. The idea that a centurion could know God, or be loved by him, or have strong faith, or be part of God's people, would be surprising. As Christians, we can be quick to rule who is 'in' or 'out'; this story is a great chance to talk about grace, and the way faith in Jesus and new life in him is offered to everyone.
This is also a great chance to be open with your child about your own experiences with faith in Jesus. It can be a huge encouragement to share about times where Jesus has answered your prayers in amazing ways. But faith can also be difficult, and your child may have hard questions, or be experiencing doubts. That's fine too, and it's good to acknowledge these hard parts of faith; that's exactly what Scripture does.
If you want you can start this week going on another 'mission' around your house to collect the things you need for today's Treehouse.
Try and find:
A Bible
An iPad, phone or tablet to allow you to watch the worship video
A notepad
Pens / Pencils
Cardboard boxes / card
Tape
Sunflower seeds (or any seeds). You might find some in bird feed if you have any.
Once your bag is packed, do a lap of your house and/or garden and end up ready to learn together.
Story
Perhaps talk through with your child who a centurion was and what they did. People would have thought a centurion couldn't be part of God's people and couldn't know God.
Read Matthew 8:5-13. The Message has a helpful and accessible version of this story. For younger children, the Beginner's Bible has a great retelling of this story called 'A Captain's Faith'.

Worship
Choose from the resources page; here's a suggestion of a song from theTreehouse Youtube playlist:
I will trust in you
Create / Play
Use card and tape / glue to create a centurion's helmet. There's some templates for you to print and use that make an easy and nifty-looking helmet; or you may be more like me, and your approach to craft may be
more 'attack it with card and PVA and see what happens'. No judgement here.
Plant sunflower seeds together. Talk about how we plant and water the seed, even though we can't see anything is happening at first; but then what happens? Faith in Jesus can be like this; we trust him even when we can't see the results yet, but then he does amazing things.
Questions to ask while you create/chat
Why did the centurion say he didn't need Jesus to come to his house to heal his servant?
Why was Jesus surprised at the centurion's faith?
What times have you seen Jesus answer prayers or do amazing things?
Are there any people you think could never come to know Jesus or have faith in him? Why don't we pray for them now?
Why not share what you've been up to on the Treehouse Parents Facebook Group?