Our vision & values
We all live with a vision. A picture of the future that motivates us now. For us at The Oak this is a picture of God's Kingdom come here on earth, in Leeds, West Yorkshire, the UK and the nations. Our vision is to Join God's mission to see the world transformed through Jesus' power to change lives. We love Jesus and to be honest, without Him the church is just a nice social club. But with God, all things are possible. We want to play our part in seeing gatherings of Christians and Churches planted all across these cities, this nation and the nations enjoying the good news of Jesus.
As well as visionaries, we are also doers. We work out our vision by loving God, loving His family and loving His world. That means we are serious about bringing people together. Serious about God and sharing the good news of His power and love to transform all things. Serious about serving this incredible world and the people around us.
And then comes the detail. How we live out all that Jesus asks us to be and do. Our values - the culture of our church family. As we see it, the culture of the church throughout the ages has been one full of the presence of God - His Spirit. So we want to be a people who are filled with His power to engage with His word and leading, to overflow with generosity, to enjoy life as family, to seek to release others, to live to be hospitable and work to multiply His church.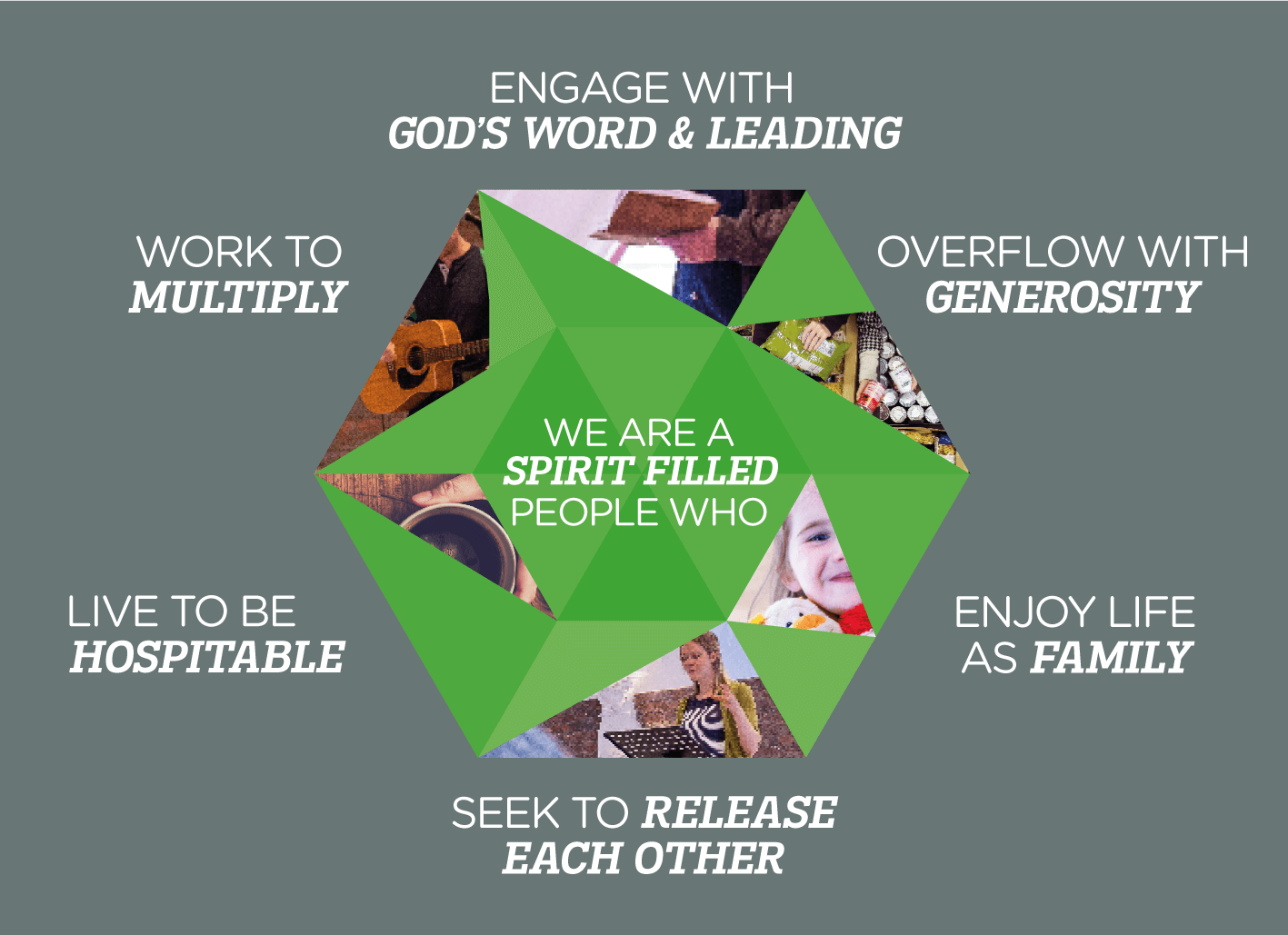 Our vision is worked out locally and globally
Locally we are investing in our local communities, investing in the cities of Leeds and Bradford, investing in the nations and investing in our friendships, families and workplaces.
Globally we are partnering with churches in the UK and the nations of the world, so that God would expand our understanding of His desire to see the whole world rooted in Him. We are partnering with churches right across the world as part of the Catalyst group of churches (part of Newfrontiers). Specifically Mosaic Church and the network of churches emerging around their leadership, City Church Newcastle and our friends planting a church in East Hull. Wider afield we are working with a group of churches in East Ukraine and Northern India. Practically this means we are connecting with churches financially and practically but also by sending and receiving teams, developing friendships and relationships and working together in bringing God's Kingdom to the nations.
In July 2021, just over ten years since The Oak was started, we sent Chris & Lisa Mason and a small team to start gathering Grace City Church in the city of Bradford.
Generous living
We want to follow the example of Jesus in all areas of our lives by being a people who intentionally and generously give of ourselves; serving and blessing the communities around us. Part of this generosity is through our finances, the giving of our money to the life of The Oak and to others as they have need.
When Jesus was challenged on tithing (giving 10% of our income), as recorded in the gospels of Luke and Matthew, He directly challenged the heart behind the tithe. God loves it when our whole lives are given to him - it's not about how much we should give, but how much can we give in joyful and adoring worship to God.
In response to the grace of God, we ask that you seek God and give generously and cheerfully; living to serve God and others, and challenging each other on how we can overflow with more generosity.
For more information on how to give please click here.