Hi, we'll be starting at 10:30am.
Welcome and thank you for joining us. If this is your first time at The Oak, hello, we hope you enjoy our time together today.
Our plan today is to start by worshiping together with one of our worship leaders (song words will be on-screen). After that, there'll be a time of prayer and news, followed by a short talk.
There are materials on this page for our 0-3's (The Nest), Preschool to Year 6 (Treehouse) and Year 7+ (Oak Youth) to help the whole family grow together.
Happy Sunday, see you at 10.30am!
Click here to join us for coffee on Zoom after the live stream finishes, roughly 11:45am.
Meeting ID: 202 316 414, Password: 925787
News this week
Update on our plans for the coming months
We have posted a blog with an update of our plans in this season - if you haven't already taken a read, we'd encourage you to do so.
Changes over the summer
Our Oak Communities will be having a break over the summer. Speak to your Oak Community Leader to find out the plans or check out the events page for details. Also our weekday 7am time of prayer will only be gathering on Tuesdays and Thursdays throughout August.
Ways to connect
Click here to see all our community WhatsApp and Facebook groups.
Family resources for this Sunday
You can view all of our resources by clicking here, including content from previous weeks, songs, videos and recommended books!
The Nest
Prayer Week 3
0-3's
Today we are going to be learning about prayer which is another word for talking to God. **Next week we will be doing an activity involving decorating biscuits (any shop bought biscuits are fine or you can make some if you'd like to) with icing and smarties (or any multicoloured chocolates/sweets). If you are not able to get hold of these items by then please contact Emily (email here) who has some of the Nest ones we can share with you.**
If you have a chance, take a look at this 2 minute video about chatting to God with young children (see the video here). We would also recommend watching this video as well if you have time, you will need to create a login to watch it, but it is free and this video and the whole course are really fantastic (see the video here).
As a quick overview, we are going to be thinking about this concept of 'chatting' to God which is taken from the Parenting for Faith course and books (which we would really recommend). 'Chatting' encourages children to use informal language, as well as non-verbal forms, to communicate with God. It's about reinforcing our children's understanding that they have their own relationship with God. All our activities this week hopefully will help with this.
Verse 'Always be full of joy. Never stop praying. Whatever happens, always be thankful.' 1 Thessalonians 5v16-18
Book My Very First Prayers by Gabrielle Mercer (see link here). Tamsin, one of our Nest team, has recorded a wonderful video of this term's story using Makaton signs (see the video here).
Songs For this term please choose whichever are your favourite songs from our Nest resources page (see the videos here).
Activity 1 This is a chance to practice chatting to God with your child. We are going to include this activity each week of the prayer term and although it might feel a bit awkward at first, we hope that with a bit of practice this will become easier and help to encourage our children to chat to God themselves. Your child naturally learns by copying you and we want to show them that they can have their own relationship with God. It is also something we can try to do every day by letting our children see and hear us chatting to God out loud. For example 'Thank you God for this dinner I am making, I really love spaghetti, God isn't it funny that it looks a bit like wiggly worms!'.
Grab a cushion and ask a question (some ideas are below). Then tell God your answer into your cushion and encourage your child to do the same. If children are non-verbal or don't want to speak then you could suggest the following: God is a proud parent just like us, who wants to see their new skills, so they might want to show Him how they can clap their hands or the funniest face they can make. Just remember to keep directing it as communication with God, not a performance for you.
What is your favourite animal? What did you have for breakfast today? Who is in your family? What is your favourite colour? Do you like singing or dancing? What food do you love to eat? What is your favourite toy? Do you like it when it's sunny or rainy?
Activity 2 Blow bubbles together and as your child pops the bubbles ask them to say things that they would like to thank God for. You could also use this time to go on a prayer walk together, searching for things you would like to thank God for - trees, birds, smiles from people you see etc.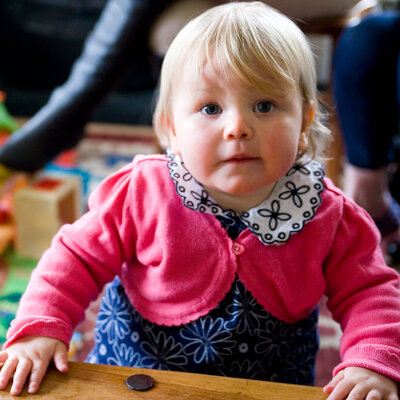 Treehouse
Everything Has Changed - Who is Jesus and how can he change our lives?
Preschool - Year 6
If you can't come to us, we decided we would come to you! Some of our Treehouse children and families have been telling us what they have been up to in our first episode of Doorstep Diaries.
Last week we thought about how our lives have changed recently, but this week we are going to think about 'Who is Jesus and how can He change our lives?'
Bible Verse: 2 Corinthians 5:17
Therefore, if anyone is in Christ, he is a new creation; old things have passed away, behold, all things have become new.
Print out the colouring sheet here to make beautiful throughout the session. Use colouring time to have conversations and to give space for children to ask questions. Pause to read out the verse. Can you say the verse without reading the words?
When we follow Jesus, we become changed, we become new. Old habits pass away and we change, becoming more like Him.
Watch the video– you will find the bible story in there too.
I wonder what comes to your mind, when you think about Jesus? Maybe it is the story of him being born in a stable? Maybe it is when he turned a little bit of bread into enough for thousands? Or maybe it was when he turned water into wine?
These are stories about things that Jesus did … But who is he, and how can he change our lives?
The bible story in the video tells us all about who Jesus is.
How can Jesus change our lives?
When we follow him, and try to be more like him we become:
Kinder
Think of others
Include people
Generous
These are just some of the ways we can change.
Could you try to learn more about Jesus, you could read your bible, you could talk to your family, you could pray and ask Jesus to show himself to you throughout your week.
Could you try to find ways to be kind, think of others, include people and be generous this week?
WORSHIP
Brighter - 'Your love is taking over me' As we sing and dance, lets invite Jesus into our hearts to change us!
Every Move I Make - We will be using this song throughout the whole 4 week series, can children learn the moves and join in?
Reckless Love - This would be lovely as a reflective song
ACTIVITY – Water Rainbow Colour Change
Items needed:
Food colouring
Plastic cups or small glass jars
Kitchen roll
Water
What to do:
Place your 5 cups in a row, feel free to use more, put water in each one.
Then add food colouring in alternate cups, for example red water, plain water, yellow water, plain water, blue water.
Fold some kitchen roll into long rectangular strips then fold them in half again, so they bend in the middle and will fit into each cup.
Put the kitchen roll into the cups and wait for the rainbow to form.
This website explains in more detail how to set everything up
Talk and discuss about the changes Jesus can make in our lives, they don't happen overnight, but by spending more time with him, we start to change for the better, just like the colouring is changing the kitchen roll to make something beautiful.
PRAYER
Jesus, I want to change from the inside out.
I want to become more like you.
Please help me and show me the way.
I want to say Yes to you today.
Amen
Why not share what you've been up to on the Treehouse Parents Facebook Group?
Oak Youth
Summer is here!
Year 7+
We've put a bunch of ideas on here to inspire you in your journey with God during those sun-filled (maybe) weeks. Maybe you could try one idea and repeat it each Sunday?
Remember: we are not meeting as Oak Youth, on Zoom or otherwise, in the summer holidays. We are planning to restart Oak Youth on Sunday 13th September 2020, starting with a session talking about Oak Youth values and welcoming new youth in. We will be on our Sunday evening Zoom and using this resource page unless we let you know otherwise.
TAKE PART
NEWDAY ONLINE: Keep watching Instagram @newdayevent for more information on Newday online events over 2nd-7th August that will be released any day now.
OAK COMMUNITIES: Find out through your parent/guardian if there are any events in their local Oak Community and join in if you can - see here.
TLG BOXES OF HOPE: If you'd like to support families who would struggle to feed their families over the summer you can do this through supporting our new Boxes of Hope outreach. Your parents/guardians, if church members, will have an email about it showing how you can pray, serve or give (if you want to know more, email chris@theoakchurch.co.uk). You can find out more about boxes of hope from the TLG website here
WATCH
The Chosen (parental guidance required), a film retelling of John's gospels. It is on Youtube or viewable via an App. There is an Imdb (note - like Wikipedia, made by the public) parental review of the content here.
PRAY
Try the five finger prayer - come back to it regularly:
1. Your thumb is nearest you - pray for family and friends.
2. The (next) index finger is the pointing finger - pray for those who teach or help others (teachers, nurses, ministers)
3. The (next) middle finger is the tallest finger - pray for leaders (people in government, business owners)
4. The (fourth) ring finger is our weakest finger - pray for those who are weak, in trouble or in pain.
5. And lastly our little finger - pray for yourself. Because you have prayed for others first, this helps you to pray for yourself with a more balanced perspective.
SING
The Newday Youtube channel has songs from previous years, like this one.
Here is a link to a Youtube playlist of songs we sing at our gatherings.

READ
Try opening up the Bible and looking up the book of John.
Either go from the start or find a section with an interesting title, and read it.
To help you understand what happened...
...Make a drawing/drawings of the section you read - or even a lego/drama version!
...think of three words that people might have used to describe Jesus in that section.

DO
Go out on a walk/run/sit somewhere outside and think about God as creator of the heavens and the earth (see Genesis 1:1). What places do you like most, rivers, woods, or beaches, and why? You can talk about this with God (pray) too.

SHARE
Please feel free to share about what you've done from these activities with your church family - on the post-Sunday church zoom, on WhatsApp (if you have that), or just with your own family.

A big shout out to all you young people and your families who have weathered such a weird and challenging school year. We are praying that you get to let God carry your troubles and grow more in knowing Him. See you soon!
The Oak Youth Team