Hi. We hope you enjoy catching up!
Welcome and thank you for joining us. If this is your first time at The Oak, hello, we hope you enjoy our time together today.
Our plan today is to start by worshiping together with one of our worship leaders (song words will be on-screen). After that, there'll be a time of prayer and news, followed by a short talk.
There are materials on this page for our 0-3's (The Nest), Preschool to Year 6 (Treehouse) and Year 7+ (Oak Youth) to help the whole family grow together.
Happy Sunday, see you at 10.30am!
News
Update on our plans for the coming months
We have posted a blog with an update of our plans in this season - if you haven't already taken a read, we'd encourage you to do so.
Month of encouragement
In the face of a difficult autumn for our nation, Ali Bowstead, our wonderful Administrator and an Oak Community leader, had this idea to kick off the season with encouragement – the choice to be thankful! A month of continuing to pray blessing and grace over streets and neighbourhoods but also being a blessing to those we live and work around – encouraging those around us – our Life Groups, our Oak Communities, our neighbours, our work colleagues, our schools, our healthcare workers. To be practical, to speak kindness, to be thankful, to write cards, to buy presents, to help out. To choose to encourage.
Ways to connect
Click here to see all our community WhatsApp and Facebook groups.
Family resources
You can view all of our resources by clicking here, including content from previous weeks, songs, videos and recommended books!
The Nest
Creation Week 3
0-3's
This week we are going to be thinking about how God made all the fish.
Verse 'God saw all that He had made, and it was very good.' Genesis 1v31
Book God made me this way by Hayley Down (see link here). If you don't have a copy of this book then have a look at this video of the story (see the video here).
Songs Who's the king of the jungle - Creator God - If I were a butterfly - God's love is big (see the videos here).
Activity 1 Make fish pictures using cut up celery and paint to stamp the scales (see example here). If you have access to a printer there is a fish template here. Talk to your child about how God made all the colourful fish.
Activity 2 Make fish from playdough. You could either just make fish shapes or can also stick on jewels, beads and googly eyes to decorate them (see example here).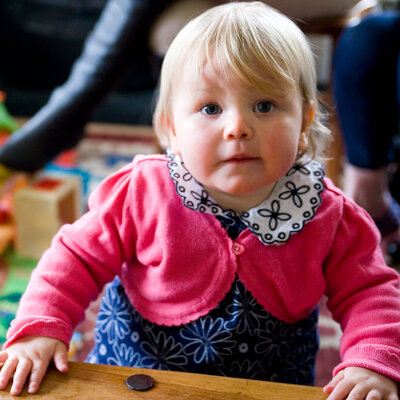 Treehouse
Telling God's Story - Noah
Preschool - Year 6
This week we are continuing our new series, Telling God's Story.
We're going to be talking about the life of Noah together and learning that God can be trusted today. What might he be asking our children – and us – to do with our lives? Where might we be needing to trust him?
This is a colourful, memorable story, beloved by Children's Bibles. But underneath that it's a huge, challenging story about God's justice and faithfulness and trustworthiness and so it might raise a lot of questions for your child. This is a really good thing.
Some children (and adults) will have questions about trust and obedience here. These words in the Christian life can sometimes get twisted to mean just unthinkingly doing whatever a human authority figure tells us to do, and that can cause a lot of hurt.
But trust in God and obedience to him is something different. It's always grounded in what God has already done for us, in his promises, and so we can trust he is loving and good, and that his commands are too.
Your child may also have really important questions about God's justice, and why only Noah and his family went onto the ark. You can be honest with your child that there aren't easy answers here (though if you have one, I would love to hear it please!) But this is also a chance to talk about how God loves his world and his people, and hates evil and injustice. Perhaps as well you can discuss with your child; what would have happened if other people had spoken to Noah and realised he was right? What would have happened if people had decided to turn back to God before the Flood?
Especially though, this is a chance to point to the cross and the way that God has come in Christ to save us and forgive us.
GAME: Can you build a boat that floats, you could use paper or get creative! Use a bucket of water, or some water in the bath to see if you can get your boat to float. Here are some ideas, 1,2,3,4
Bible verse: Genesis 6: 22 "Noah did everything the Lord commanded."
STORY: You can find today's story in Genesis 6-8. There are versions of this in most Children's Bibles as well. The Jesus Storybook Bible has a really interesting way of telling the story that I've been finding helpful for reading with Jude at home (and have found helpful for me as well!)
WORSHIP:
Father You are King of Heaven is a great fun song about trusting God and depending on him rather than trying to work out or fix everything on our own.
Trust and Obey is a more reflective song that encourages us to follow Jesus and obey him.
CRAFT: Can you make a rainbow? Use any materials you have in your house, stickers, cereal, felt tip pens. Remember God made a promise to Noah and the rainbow reminds us even today of that promise. Here are some examples 1,2,3,
CHALLENGE: Imagine in raining for 40 days and 40 nights, so much it covered the whole Earth, the highest mountains. Get a willing family member to sit in the garden or outside, read out the memory verse Genesis 6: 22 "Noah did everything the Lord commanded." then pour a glass of water over them. Sometimes God's commands will feel hard or scary but he knows what he is doing. Have some fun with this and see how wet you and your family can get.
QUESTIONS:
What things did God ask Noah to do?
Do you think it was easy or hard for Noah to obey God?
God saved humans and animals through what Noah did. Are there other times in God's Story where he saved people?
God made a promise at the end of the story – what was it?
Will God keep his promises?
What good thing might God be wanting you to do?
Where might God be asking you to trust him?
What do you think God can do when we trust him and follow his commands?
PRAYER:
God, thank you that you saved the whole world through Noah. Thank you that you can be trusted, and that you keep your promises. Thank you that you still save people today, through Jesus. I pray that you will help me to trust you this week. I pray that you will show me what good things you want me to do, and help me to do them even when it's hard. Thank you that you love me. Amen.
Why not share what you've been up to on the Treehouse Parents Facebook Group?
Oak Youth
Welcome back to Oak Youth! 
Year 7+
We're so glad you have joined us! If you're new or have been at oak youth for a while, a huge welcome to you!
We are looking forward to having fun & encountering Jesus as we learn more about Him together.
We meet each Sunday (during Leeds term time) at the new time of 7-8:30pm.
This term we will be looking at some parables from the bible. I'm sure you will already know some? Parables are short stories that Jesus told to help us to understand what the kingdom of God is like & how we can join in. You can find them in the gospels -Matthew, Mark, Luke & John.
Why not see if you can find one or ask someone in your house if they know a parable, & see if they can help you find it in the bible?
I'm super excited to see you all at Oak Youth Zoom later today!
Becks & the Oak Youth Team