Hi. We hope you enjoy catching up!
Welcome and thank you for joining us. If this is your first time at The Oak, hello, we hope you enjoy our time together today.
Our plan today is to start by worshiping together with one of our worship leaders (song words will be on-screen). After that, there'll be a time of prayer and news, followed by a short talk.
There are materials on this page for our 0-3's (The Nest), Preschool to Year 6 (Treehouse) and Year 7+ (Oak Youth) to help the whole family grow together.
Happy Sunday, see you at 10.30am!
Family resources
You can view all of our resources by clicking here, including content from previous weeks, songs, videos and recommended books!
The Nest
Christmas Week 1
0-3's
Over the next few weeks, we are going to be learning about how God's son, Jesus, was born at Christmas.
Verse 'For God so loved the world that He gave His one and only Son.' John 3v16
Book Five Minute Bible Stories by Fiona Boon & Hayley Down (pages 21-39) (see link here). Feel free to use any book or children's Bible telling the story of Jesus' birth (some families may have lots of different versions of this story, however, we have found in the Nest that the children enjoy the consistency of using the same book each week so perhaps choose one you can use throughout this series). We have also found some videos telling the Christmas story in 4 parts, this week it is the story of Mary and Joseph (see the video here).
Songs Jump for joy - Away in a manger - Oh what a special night - Oh what a glorious night - Go tell it on the mountain (see the videos here).
Activity To help us learn about the characters in the Christmas story there are a few activity ideas below. As your child plays remind them of the story, who all the different characters were and what happened to each of them. If you make any of the nativity characters, we will be doing a scavenger hunt with them in week 6, so you might want to keep hold of them until then.
Make a nativity play area using a box or tray filled with sand, straw or pasta to make a base. Then add in a nativity set or any other people toys to represent the different characters.
Make some nativity lolly stick puppets (see link here). In the link there is a set of the nativity characters to print or you could draw your own. Cut them out and stick them to a lolly stick each. You could then use these to retell the story with your child.
Make a cardboard tube nativity. Draw the different characters from the Christmas story onto toilet/kitchen roll tubes, cutting the tubes to make different sized characters. You can decorate these with crayons, pens, paper, material etc. Your child can play with these and use them to retell the story.
Make a story stone nativity (see example here) by collecting some flat stones and drawing/painting the characters from the story on them. As you make these, talk about the story and each of the people in it.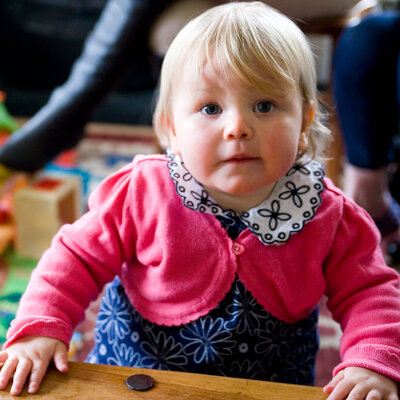 Treehouse
Messages - A Surprize for Zechariah
Preschool - Year 6
Today we start a new series - MESSAGES. Where we will learn about some messages that were given to God's people.
Each week will bring us closer to the birth of Jesus, and will slowly unravel the Christmas story.
Check out the video for the content and a game.
Elizabeth and Zechariah were facing an impossible situation.
What did they do with this impossible situation?
They took their problem to God.
An angel came to give Zechariah some good news but then something interesting happened...
Worship
Nothing is Impossible - This song links perfectly with Zechariah's situation. Nothing is impossible for our God!
Trust - A beautiful song about trusting, you can follow the actions.
All of Me - A playlist of songs to get up and dance to!
Activities
1) Make a clay tablet ( use clay or playdough) Can you write the name John onto it?
2) Using black paper and chalk, can you make signs to put up around the room to announce the name of the baby boy? 'His name is John'
3) Using paper bags and toilet rolls to hold them up, create 3 characters, Zachariah, Elizabeth and Angel Gabriel. Then, can you retell the story using the characters.
All the examples are at the end of the video
Why not share what you've been up to on the Treehouse Parents Facebook Group?
Oak Youth
Prayer
Year 7+
Prayer (a break from the parables)
For some reason many of us get into our heads we only pray with our hands together and our eyes shut tight. Where do we get these ideas? Let's see how people in the Bible prayed.
READ: Starting on the meaty task, skip to DRAW if it's a bit hard!
Pick 3 of the verses below. Find a notepad and pen.
Write WHY each person prayed, WHAT they prayed, and WHERE they prayed.
2 Sam 12:13-18 - David pleads for his Son's life
Nehemiah 1:1-11 – Nehemiah prays for forgiveness for God's people
Daniel 6:7-12 - Daniel chooses to pray regularly even when it is against the law
Matthew 26:36-46 - Jesus desperately prays in the garden
Acts 2:42-47 - The disciples devoted themselves to prayer
DRAW: pick one verse from the above list. Draw 5 emojis of what the person/people praying was feeling. Do you think they thought their prayer would be answered, and how?
Now write down something that is on your mind. Draw 5 emojis of how you are feeling.
PRAY: You've just picked something that is on your mind. Look at those emojis and talk to God about why you've put them down, either in your head or by writing. Ask God what he might say to you about the situation you've put down (if you get a thought back after this, write it down and ask yourself, does it fit with what I understand God to be like - forgiving, fair, loving?).
LISTEN: Think about the words to "I surrender"
For a more challenging one (like one of those cryptic poems in English lessons), listen to "The Road, the Rocks, The Weeds" here: https://www.youtube.com/watch?v=rcAazEpsUJY
God bless you and your families,
Katie and the Oak Youth team
***