Hi. We hope you enjoy catching up!
Welcome and thank you for joining us. If this is your first time at The Oak, hello, we hope you enjoy our time together today.
Our plan today is to start by worshiping together with one of our worship leaders (song words will be on-screen). After that, there'll be a time of prayer and news, followed by a short talk.
There are materials on this page for our 0-3's (The Nest), Preschool to Year 6 (Treehouse) and Year 7+ (Oak Youth) to help the whole family grow together.
Happy Sunday, see you at 10.30am!
Family resources
You can view all of our resources by clicking here, including content from previous weeks, songs, videos and recommended books!
The Nest
Prayer Week 1
0-3's
Today we are going to be learning about prayer which is another word for talking to God.
If you have a chance, take a look at this 2 minute video about chatting to God with young children (see the video here). We would also recommend watching this video as well if you have time, you will need to create a login to watch it, but it is free and this video and the whole course are really fantastic (see the video here).
As a quick overview, we are going to be thinking about this concept of 'chatting' to God which is taken from the Parenting for Faith course and books (which we would really recommend). 'Chatting' encourages children to use informal language, as well as non-verbal forms, to communicate with God. It's about reinforcing our children's understanding that they have their own relationship with God. All our activities this week hopefully will help with this.
Verse 'Always be full of joy. Never stop praying. Whatever happens, always be thankful.' 1 Thessalonians 5v16-18
Book My Very First Prayers by Gabrielle Mercer (see link here). Tamsin, one of our Nest team, has recorded a wonderful video of this term's story using Makaton signs (see the video here).
Songs For this term please choose whichever are your favourite songs from our Nest resources page (see the videos here).
Activity 1 This is a chance to practice chatting to God with your child. We are going to include this activity each week of the prayer term and although it might feel a bit awkward at first, we hope that with a bit of practice this will become easier and help to encourage our children to chat to God themselves. Your child naturally learns by copying you and we want to show them that they can have their own relationship with God. It is also something we can try to do every day by letting our children see and hear us chatting to God out loud. For example 'Thank you God for this dinner I am making, I really love spaghetti, God isn't it funny that it looks a bit like wiggly worms!'.
Grab a cushion and ask a question (some ideas are below). Then tell God your answer into your cushion and encourage your child to do the same. If children are non-verbal or don't want to speak then you could suggest the following: God is a proud parent just like us, who wants to see their new skills, so they might want to show Him how they can clap their hands or the funniest face they can make. Just remember to keep directing it as communication with God, not a performance for you.
What is your favourite animal? What did you have for breakfast today? Who is in your family? What is your favourite colour? Do you like singing or dancing? What food do you love to eat? What is your favourite toy? Do you like it when it's sunny or rainy?
Activity 2 Using playdough or Duplo make some things that you are thankful for. Keep reminding your child to thank God for these things as you create.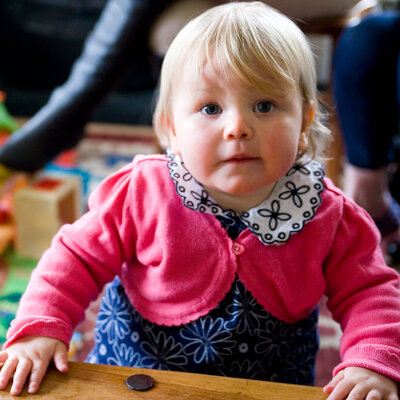 Treehouse
Explorers – Jesus heals a blind man
Preschool - Year 6
We're continuing our explorer theme this week, following along with the miracles of Jesus. We'll be looking together at Jesus' healing of the blind man, in Mark chapter 8.
This miracle is a strange one (obviously all miracles are a bit strange, but hopefully you get what I mean as you read it!) Jesus does not heal the blind man immediately – it takes two stages of healing for him to be able to fully see. I don't understand why this is! I think that makes this a lovely opportunity to learn with our children; what do they think? What can God teach us as parents through our children's insights?
One thing that does encourage me about this story; God's grace doesn't affect all of us the same, and it doesn't affect all of us immediately. When our children (and us) 'get' some parts of who Jesus is, but are still missing a lot, when we're still struggling to understand him and 'see' him properly; that's okay. Jesus is only part-way done with the miracle he's working in us.
If you want you can start this week going on another 'mission' around your house to collect the things you need for today's Treehouse. Try and find:
A Bible
An iPad, phone or tablet to allow you to watch the story
A notepad
Pens / Pencils
A scarf
Once your bag is packed, do a lap of your house and/or garden and end up ready to learn together.
STORY
This story can be found in Mark 8:22-26. The NLT or NIV both have really helpful, clear translations of this.
There's a video retelling of the story that includes a bit of what happens afterwards, here.
WORSHIP
Choose from the resources page; here's a suggestion of a song from the Treehouse Youtube playlist.
Rescuer by Rend Collective; love this song, especially the lyrics!
Activity ideas
- Try wrapping a scarf over your child's eyes so they can't see. Put toys in their hands and see if they can identify them by touch alone. Then take the scarf off so they can see the toys. Talk about how this felt. Was it hard to do?
- Take turns playing hide and seek, with the person who's 'it' tying the scarf over their eyes, and trying to catch everyone else just from the sounds they make.
- Try making a pair of sunglasses out of a cereal box, or card. Cut the shape of the glasses, make a hole either side and be creative attatching them to faces.
- Can you draw an emotions wall? Brick by brick, draw a simple wall, and write or colour the emotions that you identify through the story. How was the man feeling sitting on the side of the road without his sight? What colour could represent that? How would he have felt when Jesus arrived? What words would describe that emotion? What about when Jesus rubbed the mud into his eyes? Was he confused? Nervous? How do you think he felt when he washed the mud away? By the end of the activity the wall should be full of colours or words.
QUESTIONS
What would it have been like to be a blind person in ancient times? How would the blind man who met Jesus have felt?
How did Jesus heal the man?
What do you find strange about this miracle?
Why did Jesus heal the man in two stages? What do you think?
Why do you think Jesus told the man to go straight home and not go into the village?
RESPONSE
Make some space and time to pray with your child about what they've learned today. Is this a time to pray for healing for someone? Or is this a time to tell Jesus they want to see him better? Or maybe they just want to chat to God about their day. Our God loves to listen to our children (and from us). Which is pretty amazing.
Why not share what you've been up to on the Treehouse Parents Facebook Group?