Hi. We hope you enjoy catching up!
Welcome and thank you for joining us. If this is your first time at The Oak, hello, we hope you enjoy our time together today.
Our plan today is to start by worshiping together with one of our worship leaders (song words will be on-screen). After that, there'll be a time of prayer and news, followed by a short talk.
There are materials on this page for our 0-3's (The Nest), Preschool to Year 6 (Treehouse) and Year 7+ (Oak Youth) to help the whole family grow together.
Happy Sunday, see you at 10.30am!
News
Church Family Meeting: An update on our plans for this season
We are hosting a Church Family Meeting in a couple of weeks time (Sunday 11th October), and if The Oak is your home, we'd love to see you there! More details are here.
Month of encouragement
In the face of a difficult autumn for our nation, Ali Bowstead, our wonderful Administrator and an Oak Community leader, had this idea to kick off the season with encouragement – the choice to be thankful! A month of continuing to pray blessing and grace over streets and neighbourhoods but also being a blessing to those we live and work around – encouraging those around us – our Life Groups, our Oak Communities, our neighbours, our work colleagues, our schools, our healthcare workers. To be practical, to speak kindness, to be thankful, to write cards, to buy presents, to help out. To choose to encourage.
Ways to connect
Click here to see all our community WhatsApp and Facebook groups.
Family resources
You can view all of our resources by clicking here, including content from previous weeks, songs, videos and recommended books!
The Nest
Creation Week 5
0-3's
This week we are going to be thinking about how God made all the animals and how they are all so different. **Next week we will be doing an activity involving decorating gingerbread men or any people shaped biscuits. If you are not able to get hold of some by then please contact Emily (email here).**
Verse 'God saw all that He had made, and it was very good.' Genesis 1v31
Book God made me this way by Hayley Down (see link here). If you don't have a copy of this book then have a look at this video of the story (see the video here).
Songs Who's the king of the jungle - Creator God - If I were a butterfly - God's love is big (see the videos here).
Activity 1 Go on a bug hunt and talk about how God created each of the different bugs and made them all so different.
Activity 2 Make animal pictures, focusing on their differences. Draw or print a couple of different animal outlines (if you search online for animal outlines there are hundreds of these available to print or copy). Decorate your animals using different textured stickers, paper or material to make spots, stripes, scales or fur. Remind your child about how God created the animals and they are all so different.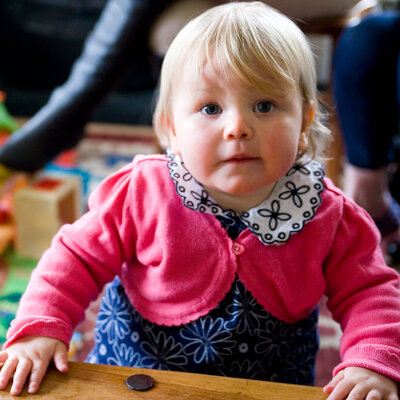 Treehouse
Telling God's Story - Abraham Trusts God
Preschool - Year 6
Imagine you have waited a long long time for something you really wanted! Finally, you get it and you don't ever put it down. You LOVE it … image how good it feels. Then think about how you would feel if someone asked you to give it away. To never see it again. This happened to Abraham … Watch the video to see the story.
Abraham and Sarah didn't think they could have any children. God came to Abraham and Sarah and said they would have a son, Abraham was willing to trust and obey God and give up his son.
GAME: Play 'Katy says' some more at home or throughout the day.
WORSHIP:
TRUST Can you copy the moves with this dance worship?
The RIZERS Proverbs 3:5-6
"Trust in the Lord with all your heart and lean not on your own understanding, in all your ways acknowledge Him and He will direct your paths" (Proverbs 3: 5-6)
YOU MAKE ME BRAVE In every circumstance we can be brave, becuase God is for us and not against us!
CRAFT: Draw a picture of your family. While you are drawing talk about all the bits you love about each person. Pray for each member of the family one by one.
And / or
Write the word TRUST in bubble writing, decorate it, think about how we can trust God even when it feels hard here is Lucy's
And / or
Could you use Lolly pop sticks with red / orange tissue paper to create a fire to represent the sacrifice Abraham was willing to make.There is an example here
QUESTIONS:
What happened in the story today?
What does Sacrifice mean?
What do you think Abraham was thinking when God asked him to sacrifice his son Isaac?
What was Isaac thinking?
How did God provide for Abraham?
This is a challenging story, so please do tailor it to your children and we hope some wonderful conversations come from learning about Abraham and the way he trusted God.
Why not share what you've been up to on the Treehouse Parents Facebook Group?
Oak Youth
The Parable of the Sower
Year 7+
Please bring a pencil/pen and a sheet of paper, and a bible to our zoom call 7-8.30pm on Sunday.
This week we are reading the parable of the sower. The people listening to Jesus 2000 years ago might have been farmers, but we're not! How can this parable be relevant to your life?
Read: Mark 4:1-20
Watch: A film of this parable
Talk: What does Jesus mean by the "seed" in verse 4? Who is the "farmer" in verse 14? How do you make sure you have "good soil" to grow in verse 20? What might your fruit or crop be?
Make: Plant some seeds in a little pot indoors this week. Think about the parable while you plant them. Make sure the seed has everything it needs to grow, and think about how we can choose to ask God for all that we need to grow as a Christian.
Jesus told this story to try and help us to understand that everyone needs to hear the seed of the word of God. But whether we grow as Christians, even during hard times, depends on us asking God for, and choosing the good soil.
God bless your week!
Rachel and the Oak Youth team