Hi. We hope you enjoy catching up!
Welcome and thank you for joining us. If this is your first time at The Oak, hello, we hope you enjoy our time together today.
Our plan today is to start by worshiping together at 10.30am with one of our worship leaders leading us from their home (song words will be on-screen during the live stream). After that, there'll be a time of prayer and news, followed by a short talk.
There are materials on this page for our 0-3's (The Nest), Reception to Year 6 (Treehouse) and Year 7+ (Oak Youth) to help the whole family grow together.
We understand that the changes to home schedules mean you might not be able to join us for the whole morning. With this in mind, this page will be available during the week enabling you to use the resources when you can get to them.
Happy Sunday, see you at 10.30am!
Family resources
You can view all of our resources by clicking here, including content from previous weeks, songs, videos and recommended books!
The Nest
Parables Week 1
0-3's
Over the next 4 weeks we are going to be learning about some of the stories that Jesus told. We can read about these in the Bible and they each show us how much God loves us and how we can be more like Him.
Verse 'I have loved you with an everlasting love.' Jeremiah 31v3
Book The story this week is 'The Lost Sheep' from Stories Jesus Told by Nick Butterworth and Mick Inkpen (see link here). If you don't have a copy of this book then have a look at this video of the story (see the video here) or have a look in your Bible at Luke 15v1-7.
Songs God's love is big - Guess what, God loves you - When I look - The wise man built his house (see the videos here).
Activity 1 Hide some sheep toys/pictures/puzzle pieces around the room and then search for these lost sheep with your child. Once you have found them all, remind your child that God loves us just like the farmer did who went and found his one lost sheep.
Activity 2 Create a sheep picture. Draw an outline of a sheep on some paper then let your child decorate it using whatever resources you have available. You could colour your picture in, paint it or use cotton wool for the body, black paper for the legs and face, googly eyes, green paper for grass etc. Remind your child as they make their sheep that Jesus says, 'God is like the farmer, He loves us just like the farmer loves his sheep'.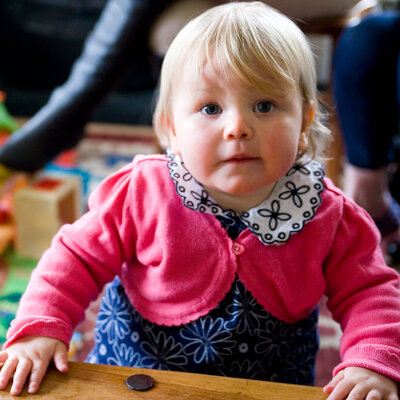 Treehouse
Explorers - The feeding of the 5,000
Preschool - Year 6
We're continuing our explorer theme this week, following along with the miracles of Jesus.
This story is a favourite in Children's Bibles, and it's easy to see why – it's simple to follow along but it's also a big and dramatic miracle. But I remember as a child being a bit confused about why it was in the Bible. Jesus, the Son of God, is using his infinite power to… make everyone lunch? It seemed a bit random! But Jesus's miracles are about his kingdom, and the type of king he's going to be. Normal human kingdoms are full of disease, and poverty, and death, and hunger – even in our own United Kingdom. But in his miracles, Jesus showed that the Kingdom of God is a place of partying and celebrating with the finest wine, where disease is cured, the poor are freed, the dead are raised; and where hungry people are fed, with even a little child being part of making it happen.
If your child takes away from this story that Jesus fed 5000 people with 2 fishes and five loaves, and that it was a miracle, that's amazing. The joy of Scripture is that it works on all kinds of different levels at the same time. But this can also be a chance to explore with your child who Jesus is and what is going on in his kingdom; where can you see it at work in our world, today; and how can you get involved for yourselves?
If you want you can start this week going on another 'mission' around your house to collect the things you need for today's Treehouse.
Try and find: A Bible, an iPad, phone or tablet to allow you to watch the story, a notepad, Pens / Pencils, Paper / Card / Glue / Scissors
Once your bag is packed, do a lap of your house and/or garden and end up ready to learn together.
Story
There's loads of great adaptations and versions of this story. It's found in every gospel, but for this I'm using John 6:1-14. There's also a fun video retelling of the story here. Or you can find the story in the Beginner's Bible or, for older children, the Jesus Storybook Bible.
Worship
Choose from the resources page; here's a suggestion of a song from the Treehouse Youtube playlist:
My God is so big
Activity ideas
- Try folding a sheet of paper in half. Keep folding it in half and see how many folds you can get. Now try cutting the sheet of paper in half. Keep cutting it in half, sharing the pieces out with your children. Talk about how you're sharing the paper out, but ending up with lots more pieces; what happened when Jesus shared the food with (over) 5000 people?
- Create a basket using scrap card and paper from around the house – or use a template like this. Cut out and colour in some bread and fish and fill the basket with them.
- Some of you guys are amazing bakers! Why not try baking bread with your child while you talk about the story.
- This is a good opportunity to discuss that there are still people who are hungry in our day – including in our area. Talk about ways your child might to help. Maybe they want to plan a shop for Food Bank with you – or maybe they want to start saving up to donate to a charity like Tearfund, that work with people facing poverty around the world. Perhaps this could be a long term project to do together as a family?

Questions to ask while you create/chat
When have you been really hungry? What's your favourite food?
How much food was there in our story – who brought it?
What did Jesus do?
Why didn't Jesus just send people home to get something to eat?
Why did Jesus use the little boy's food for the miracle?
If part of what Jesus does is feeding people who are hungry, what does that mean for us?
Not long after this miracle, Jesus told people he was the Bread of Life. What do you think he meant?

Response
Make some space and time to pray with your child about what they've learned today and what they're grateful for. Or maybe they just want to chat to God about their day – he loves to hear from them.
Why not share what you've been up to on the Treehouse Parents Facebook Group?
Oak Youth
Kingdom styled
Year 7+
As someone who is a Christian (someone who by faith follows the life of Jesus) having a kingdom perspective helps me to view my life with God's kingdom in mind & helps me to make decisions from a kingdom perspective.

This week consider what it means to think of Jesus as King. Jesus was not just the King of the Jewish nation (as was written by the Roman soldiers above the cross where he died) but is the King of the universe and everything in it.

Our perspective of what it means to be a king or queen is limited by how we see earthly kings and queens behave. Our queen has served the United Kingdom for 68 years. She has been a faithful servant of both the people and God. She has served honourably, with perseverance through many changes including the invention of the internet and the forming and soon the withdrawal from the European Union. In my opinion she is a great queen not just because of her service but because she is humble enough to point her people to Jesus as seen many times in her yearly Christmas message.

Jesus however wasn't just an earthly King, He is The King. Have a listen to this song I used to sing when I was a young person, it brings me to tears every time. This is our God, the servant King.
What have you done to serve someone else other than yourself this week or over a long period of time? To live with a kingdom perspective means to submit to Jesus and to each other. To live with a posture of humility may look like putting your wants and desires down or submitting them to Jesus and allowing Him to change them for His desires or maybe even give you them back 'kingdom styled'.
Imagine kneeling in front of Queen Elizabeth and rising as a Knight or some other title. Now imagine kneeling in front of Jesus and rising to stand next to Him as a friend!! It's easier to submit when you know He is on your side, you're in it together and He will never leave you or forsake you.
What might God be asking you to lay in front of Him, put under His authority, reign or leadership so that the world will see Him through you?
He was the Humble King who came from the heavens to earth, making himself low, as low as being born as a vulnerable baby in a stable?! -That's my King! Will you humble yourself before Jesus today and make Him King in every area of your life?
Lord show me how I can live with the kingdom perspective of humility. Show me what I need to submit to you and show me who I can serve. Friend, help me to walk in humility reflecting your kingdom.

See you tonight for Oak youth on zoom.
God bless you & your families,
Becks & the Oak youth team