Hi. We hope you enjoy catching up!
Welcome and thank you for joining us. If this is your first time at The Oak, hello, we hope you enjoy our time together today.
Our plan today is to start by worshiping together with one of our worship leaders (song words will be on-screen). After that, there'll be a time of prayer and news, followed by a short talk.
There are materials on this page for our 0-3's (The Nest), Preschool to Year 6 (Treehouse) and Year 7+ (Oak Youth) to help the whole family grow together.
Happy Sunday, see you at 10.30am!
News
Update on our plans for the coming months
We have posted a blog with an update of our plans in this season - if you haven't already taken a read, we'd encourage you to do so.
Changes over the summer
Our Oak Communities have been having a break over the summer. Speak to your Oak Community Leader to find out the plans as things start back up again in September or check out the events page for details. Also our weekday 7am time of prayer will now be starting to meet again Monday to Friday each week on Zoom.
Ways to connect
Click here to see all our community WhatsApp and Facebook groups.
Family resources
You can view all of our resources by clicking here, including content from previous weeks, songs, videos and recommended books!
The Nest
Creation Week 1
0-3's
This term we are going to be learning about how God created lots of different creatures including birds, fish and even people. This week we are going to be thinking about how God made all the different creatures and their homes.
Verse 'God saw all that He had made, and it was very good.' Genesis 1v31
Book God made me this way by Hayley Down (see link here). If you don't have a copy of this book then have a look at this video of the story (see the video here).
Songs Who's the king of the jungle - Creator God - If I were a butterfly - God's love is big (see the videos here).
Activity Wrap up some animal teddies/toys before you begin. With your child create some 'homes' from different materials (e.g. straw for nest, green material for land, blue material for sea etc). Then as your child unwraps the animals decide together which 'homes' they should go in. Talk about how when God created creatures, he gave each of them special places to live. Instead of wrapping the animals you could hide them around the room to find before placing them in their 'homes'.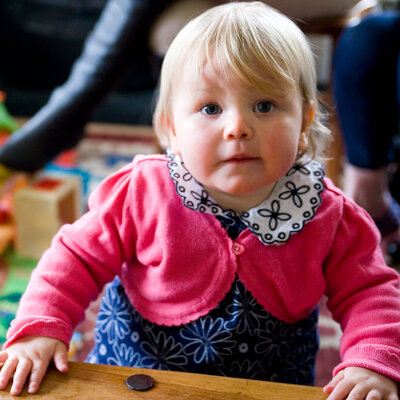 Treehouse
Everything Has Changed - How do we love?
Preschool - Year 6
If you can't come to us, we decided we would come to you! Some of our Treehouse children and families have been telling us what they have been up to in our first episode of Doorstep Diaries.
Bible Verse: Love others as I have loved you. (John 15:12)
Game to play before the session starts:
Fill a box, jar or bag with treats, toys or fun things. Place it in a location that would be too high for children to see into it. Point out the box, jar or bag and tell children there is something really cool inside. Then ask if they want to see what's in it. Allow children to struggle and crane their necks, jumping to have a look but do not let them touch the items.
How does it make you feel when you cannot see something you would really like to see?
Can you think of a time when you haven't been able to see something you really wanted to see?
Take the item down and let the children play with them/ eat them. Explain that today we will be learning about a person who had a hard time seeing something he really wanted to see: Jesus!
Watch the video
As we continue with our theme EVERYTHING HAS CHANGED, today I want us to think about this question 'How do we LOVE?' – Try answering my questions now
Can you think of a time when you felt loved?
Can you name some people that you know love you?
Can you remember something someone said to you that made you feel loved?
How do we Love? Jesus tells us to love one another, he showed us how to love when he walked the Earth, we can learn more about that in the bible. I wonder how you show love in your family, friends and with the people you meet.
Zac didn't have any friends, in fact no one really liked him. Zac had not been very good – Zac wanted to get close to Jesus, then a crazy thing happened! Jesus spoke to Zac, and told him he was going to his house! Jesus knew that Zac wasn't perfect, but he still loved him anyway.
Jesus' love changed Zac … Zac accepted love from Jesus and started to give it to others.
Jesus wants us to love everyone. Not just our favourite people.
What would you do?
What would you do if Jesus came to your house?
Using a large sheet of paper, draw or write your ideas down. What would you show Jesus, a favourite toy? A special book? Some artwork you have drawn? What would you talk about? Any questions you would ask him? What food would you give to Jesus?
How do we love?
Have a think about who you love, maybe you could make a list of all the people you love. How do you show your love? Write ideas down together – say kind things, give gifts, hug them, tell other people how wonderful they are.
Jesus showed us in the story, that it is important that we love all people, even people we don't really get on with that well. Even people who have lied to us! Even people who have stolen from us? Even people who said unkind things to us!
I wonder if there is anyone you can think of that wasn't very kind to you? What would it look like to love them anyway?
WORSHIP
SHINE - Let your love shine out this week to other people around you.
GOOD GOOD FATHER - God is our Good father, the father of LOVE.
LIGHTHOUSE - Let your love be a light, let Jesus fill you up with love today.
CRAFT– Can you make an image to remind you of our story? You could draw round your hand, paint a hand print or cut out a print from card, to create the tree, then add a drawing of Zac up in the tree, trying to get a better look at Jesus and include Jesus calling out to him. Here is an example and another
Can you add on the bible verse?
PRAYER
Jesus, thank you that you love us, even when we have done wrong things. Thank you that you teach us to love everyone. Help me to love my family, my friends and people who others don't like. I want to love like you love. Amen.
Why not share what you've been up to on the Treehouse Parents Facebook Group?