Bookings have now closed to join us in person at our building for Easter Sunday 2021.
If you'd like to join for next week please check here from Monday morning, or email for more information. We'd love to see you!
Hi. We hope you enjoy catching up!
Welcome and thank you for joining us - Happy Easter. If this is your first time at The Oak, hello, we hope you enjoy our time together today.
Our plan today is to start by worshiping together with one of our worship leaders (song words will be on-screen). After that, we get the joy of joining Mick for his baptism and then there'll be a time of prayer and news, followed by a short talk from guest speaker Andy Kind.
As it's Easter Sunday, our kids (The Nest, Treehouse and Oak Youth) are invited to join us for Treehouse Live: A Superhero party on Zoom from 9:45am - and then why not stay on the call to join us for the main gathering.
If you've arrived here with a bit of time to spare, why not watch one of these powerful videos while you wait (or take a watch afterwards):
From creation to the cross and then on to the culmination of all things: Jesus was and is and is to come.
Check out this super cool Retelling of the Easter story...told by kids.
News
Staycation - SAVE THE DATE
We hope to have a Staycation later in the year on the 16th October. Please put the date in your diary!
7:7 Prayer
Join us at 7am each weekday on Zoom for 15mins of prayer reflection - praying for our cities, the nation and the nations. Click here for more information.
Ways to connect
Click here to see all our community WhatsApp and Facebook groups.
Family resources
You can view all of our resources by clicking here, including content from previous weeks, songs, videos and recommended books!
The Nest
Easter Week 4
0-3's
This week in the Nest we are looking at the story of what happened on Easter Sunday
Verse 'He is not here; He has risen!' Luke 24v6
Book Five Minute Bible Stories by Fiona Boon & Hayley Down (pages 51-69) (see link here). If you don't have a copy of this book then have a look at these videos of the story (see the first video here, see the second video here).
Songs All through history - Great big God - Jump around - 123, Jesus is alive (see the videos here).
Activity Explain about how Jesus died for us because He loves us and that means we can be friends with God. Talk about how throughout the story everyone felt many different feelings. For example, the men who hated Jesus and arrested him were angry/cross, Jesus' friends were sad when He died on the cross and everyone was surprised and then happy when they found Jesus was alive.
Make faces showing these different emotions using paper plates. Cut a mouth hole in a paper plate and attach a circle of card to the back of the plate using a split pin. Then draw on a mouth in four positions to make happy, angry, surprised and sad faces. Your child can decorate the face, adding googly eyes, wool hair, drawing on cheeks, eyebrows etc (see example here).
Once they have finished, talk through the story again using their creation. Ask your child to spot the different emotions on the pictures of the people in the story and talk together about how people might have felt.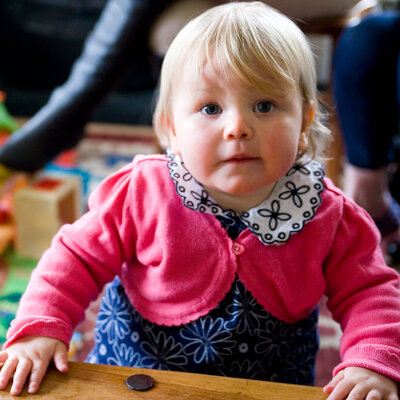 Treehouse
Treehouse LIVE - Superhero Party
Preschool - Year 6
Oak Youth
Celebrate, Happy Easter!!
Year 7+
To a Christian, Easter Sunday means everything, when we celebrate the resurrection of Jesus Christ.' Bernhard Langer
The events that we remember at Easter are, indeed, everything to Christians. The very centre of our faith – the death and resurrection of Jesus – is commemorated and celebrated over this festival. It is a time of somber reflection and great joy.
For some however, the joyful celebration and significance of Easter is overshadowed by buns, bonnets, bunnies and, of course, bucket loads of CHOCOLATE! Young people can sometimes have a jumbled up view of the Easter story, which is picked up in snippets from RE lessons or Sunday school. The Easter story brings soooooo much more than some nice chocolate (although I'll admit the chocolate is tasted!), it shows us how Jesus can bring each and everyone of us back into right relationship with God Himself - amazing!!
Read:
Isiah 53 - speaks about what will happen - prophesying about Jesus.
John 17-20 - is an eye witness account writing about what actually happened.
1 Corinthians 15:12-19 - why does Paul say that if Jesus has not been raised from the dead then our faith is worthless? & What has the death & resurrection done for us?
Let's celebrate, because despite all around us may feel like sinking sand He has made a way for us to be with Him now and forever. This Easter season, why not ask Jesus to live in your heart & if you already know Him, why not ask Him to show you more of who He is?
Pray: Jesus, thank you for dying on the cross for me. Thank you that through your death & resurrection, you have made a way for me to stand before you clean, spotless, completely perfect in your eyes. Please forgive my sins, anything at all that I have done to hurt you & please come and live in me, make yourself at home and grow in me changing me to be more like you until we meet. I confess that you're are Lord of my life and no other. Thank you that you promise never to leave or forsake me. Thank you for being with me.
Dance: Dance all day ... click the link to check out the video.
The Lord bless you & keep you wonderful Oak Youth, He is Risen!
Becks & the Oak Youth team