Hi. We hope you enjoy catching up!
Welcome and thank you for joining us. If this is your first time at The Oak, hello, we hope you enjoy our time together today.
Our plan today is to start by worshiping together with one of our worship leaders (song words will be on-screen). After that, there'll be a time of prayer and news, followed by a short talk.
There are materials on this page for our 0-3's (The Nest), Preschool to Year 6 (Treehouse) and Year 7+ (Oak Youth) to help the whole family grow together.
Happy Sunday, see you at 10.30am!
News
Church Family Meeting: An update on our plans for this season
We are hosting a Church Family Meeting in a next Sunday (11th October), and if The Oak is your home, we'd love to see you there! More details are here.
I love you because... a message from the children in Treehouse!
This month the children in Treehouse are using their voices to encourage their families, let's see what they have to say.... Click here to watch the video.
Fuel
Fuel is a monthly prayer and worship evening - you'd be more than welcome to join us as we seek, thank, break bread together and worship God. We'll be joining together online using Zoom this evening from 7:30pm. You can join by clicking here. Or the ID is 635 824 789 and the password is 391411.
Ways to connect
Click here to see all our community WhatsApp and Facebook groups.
Family resources
You can view all of our resources by clicking here, including content from previous weeks, songs, videos and recommended books!
The Nest
Creation Week 6
0-3's
This week we are going to be thinking about how God made people!
Verse 'God saw all that He had made, and it was very good.' Genesis 1v31
Book God made me this way by Hayley Down (see link here). If you don't have a copy of this book then have a look at this video of the story (see the video here).
Songs Who's the king of the jungle - Creator God - If I were a butterfly - God's love is big (see the videos here).
Activity Decorate gingerbread men using icing and sweets/chocolates. Remind your child that God made them and all the people in the world. You could also use the decorating time to pray with your child for them and people they know.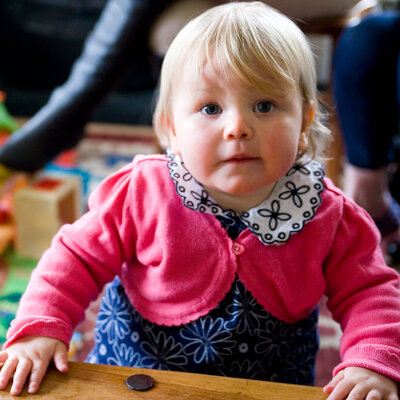 Treehouse
Telling God's Story - Jacob and Esau
Preschool - Year 6
Genesis 25: 19-34
Today's story is about Twins, some twins are born looking the same… some twins are born looking different.
Today's story is about twins who were very different.
Today we are learning about Jacob and Esau. Remember Isaac from last week's story? Well Isaac is all grown up now and has children of his own. Jacob was his son and he had a twin brother called Esau.
Check out the video for this week.
GAME:
Guess who? Let children take turns being blindfolded. In each round one blindfolded child should sit in a chair. The other children can take turns standing in front of the blindfolded person and holding out one hand. The blindfolded person has to guess which person it is by feeling their hand. You could change each round and have the blindfolded person guess identities by feeling an elbow, knee, foot, etc. "In today's story, a blind man tried to recognize his son by feeling his hand."
And / or
Guess What? You could play the version that Rob played in the video with items, guessing what the object is while blindfolded.
WORSHIP:
CRAFT: Draw an outline of two people, use a range of resources to decorate Jacob and Esau, double sided sticky tape could be used to cover Esau in fur or material to represent hair. Write down words to describe each of the brothers.
Sold birth right, hairy, hungry, older brother, Isaac's favourite, Rebekah's favourite, grabbed heel, younger, sneaky, quiet, loved hunting
Shadow Show
Create an outline of Jacob and Esau, when it gets dark turn off the lights and use a torch to project their shadows onto the wall. Read through the story together and discuss what you learnt. This maybe be something for adults to prepare separately, but would be a lovely way of coming back to the story at bed time.
QUESTIONS:
Why didn't Jacob and Esau get along?
What is a 'birthright'?
What is a 'blessing'?
How do you think Esau felt when he didn't get the blessing?
Has anyone ever taken anything important away from you?
Why not share what you've been up to on the Treehouse Parents Facebook Group?
Oak Youth
The Hidden Treasure
Year 7+
What is the most important or precious thing in your life? Perhaps it is your mobile phone, or a family member. What is it that makes this thing so precious? I wonder what you would give up to keep this thing. I can't help thinking about how important toilet paper was at the beginning of lockdown. Some people went to incredible lengths to ensure they had some and paid large amounts of money!
Today we are going to think about things that are precious or important to us. We will think about how our relationship with Jesus can be the most awesome and precious thing in our lives and why.
Watch the short Lego film of the parable of the hidden treasure.
Read Matthew 13:45-46.
In this story the man was so deseprate to own the treasure that he sold everything. However, because the treasure was so precious to him he was now so happy just to possess this. Everything else seems of little value in comparison with this one thing that he considered it worth giving everything else up.
In the same way our relationship with Jesus is so precious. There is nothing to compare with the freedom we have in him. We have freedom from sin, death, fear and even illness to name just a few of the gifts he gives us. Once we have an understanding of this how can we not tell others about it?
Response
This song speaks about the precious nature of God's word and the importance of listening to it. As you listen reflect upon the session and how precious God is to us.
Reflect
Read the following verse. Perhaps you could challenge yourself to learn it throughtout this week. If you are feeling creative maybe you could draw a picture to go with the verse to describe what it means to you.
'The kingdom of heaven is like treasure hidden in a field. When a man found it, he hid it again, and then in his joy went and sold all he had and bought that field.'
Matthew 13:44 (NIV)