Hi. We hope you enjoy catching up!
Welcome and thank you for joining us. If this is your first time at The Oak, hello, we hope you enjoy our time together today.
Our plan today is to start by worshiping together with one of our worship leaders (song words will be on-screen). After that, there'll be a time of prayer and news, followed by a short talk.
There are materials on this page for our 0-3's (The Nest), Preschool to Year 6 (Treehouse) and Year 7+ (Oak Youth) to help the whole family grow together.
Happy Sunday, see you at 10.30am!
News
Love:Nations Prayer Evening
Join The Oak and Churches from our Catalyst Hub for an evening of prayer for the nations - tonight at 8pm. Click here for more information.
Staycation - SAVE THE DATE
We hope to have a Staycation later in the year on the 16th October. Please put the date in your diary!
7:7 Prayer
Join us at 7am each weekday on Zoom for 15mins of prayer reflection - praying for our cities, the nation and the nations. Click here for more information.
Ways to connect
Click here to see all our community WhatsApp and Facebook groups.
Family resources
You can view all of our resources by clicking here, including content from previous weeks, songs, videos and recommended books!
The Nest
God Made Me Week 10
0-3's
This term we are learning about how God created us and how we have amazing bodies that can do so many things. This week we will be learning about our sense of hearing.
Verse 'I praise You because I am fearfully and wonderfully made.' Psalm 139v14
Book God knows all about me by Claire Page and God loves little me by Rebecca Elliott (see links here). Tamsin, one of our Nest team, and two very special helpers have also recorded a brilliant video of one of this term's books using Makaton signs (see the video here).
Songs Deep, deep, deep - Jesus loves me - Great big God - Guess what, God loves you - Jump around (see the videos here) - God made my head, shoulders, knees and toes (lyrics below, sing the first line however you'd like to and then into the normal tune).
God made my…
Head, shoulders, knees and toes, knees and toes
Head, shoulders, knees and toes, knees and toes
And eyes and ears and mouth and nose
Head, shoulders, knees and toes, knees and toes
Activity 1 Gather any instruments you have and talk about the different noises they make (drums can be loud, shakers may sound happy etc). Then talk about how God made our sense of hearing, so we can hear all these different sounds. You could also use these instruments during any of the songs you do this week.
Activity 2 Make kazoos by decorating a cardboard tube or a sheet of A5 card which can then be rolled up into a tube shape and taped in place. Cut a square of greaseproof paper and attach to one end using an elastic band. Make a hole near the greaseproof paper end of the tube, then when you talk or sing into the other end it makes a funny sound (see example here). Remind your child that God made us able to hear even the funny sounds!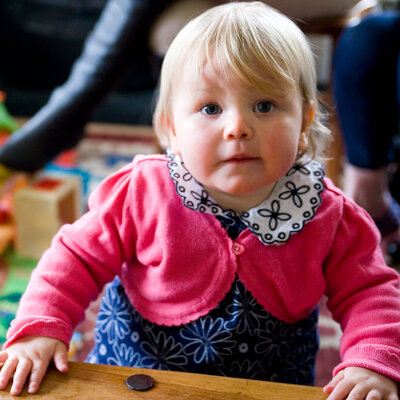 Treehouse
Footsteps to the Cross - Palm Sunday
Preschool - Year 6
NEW SERIES
The Treehouse team are so excited to start this new Easter Series - Footsteps to the Cross - exploring 4 key events as we move closer to Easter Sunday.
Today we are learning about Palm Sunday and why this day was so special.
Why don't you check out the video to see what Lucy and Sam have planned for this session?
Game: Donkey Rides - Jesus came into Jerusalem as a King - riding on a donkey. Can you set up a quick assault course and have a go at becoming a donkey? Perhaps you can get a grown up to give you a ride?
Songs: Could you try copying the actions to these songs, turn it up and get dancing!
Actvitiies: See picture of the activities here
1) Can you make your own palm branch, either by weaving through coloured strips or by cutting green handprints and sticking them together?
2) Can you use grey and green paint, to create a donkey (from your footprint) and leaves from your handprints - to remember that Jesus came on a donkey through the streets?
3) Can you make mini bibles out of fig rolls and icing? Eat these tasty treats while you check out the bible verse for the day - John 12:13
They took palm branches and went out to meet him, shouting, "Hosanna!" "Blessed is he who comes in the name of the Lord!" "Blessed is the king of Israel!"
We hope you enjoy all the activities, if you are joining us for the first time do connect with us - drop us an email at hello@theoakchurch.co.uk - we would love to hear from you.
Lucy and the Treehouse team
lucy@theoakchurch.co.uk - Feel free to get in touch. I would love to see any pictures of what you have been getting up to and always love hearing from you.
Why not share what you've been up to on the Treehouse Parents Facebook Group?
Oak Youth
Love Nations
Year 7+
Hello everyone,

For those of you who weren't with us last Sunday, we said a 'goodbye for now' to Katie as she takes time to have a family and a warm hello to Becca Latz. Katie has been part of the Oak Youth team for a while now but is taking some time out to have a baby. Becca joined the Oak Church this time last year & loves working with young people, can't wait for you to meet her!

Instead of our usual Sunday night youth zoom gathering, this week we will be joining with the wider church Hub family to hear news from around the world and to pray for the nations. These times of connection with our bigger family are precious and unique -we hope you can make it!

All the details you need to access the event have already been sent to your parents. In the meantime, why not find a psalm to read or listen to a worship song & share it with us next time we meet?

See you there at 8pm!
Becks & the Oak Youth