Our vision moving forward and the plan for 2019!
We have a big vision for the next few years. We have some challenges too, but if we take our gaze off of Jesus we will establish an empire that Jesus won't recognise. We are called to be the Church not on a Sunday, but in every moment and in every corner of the city - looking to Jesus and showing the world His love and grace. The cost for not sharing and loving the world is paid not by those who believe but by the whole world. When we take our eyes off the prize of Jesus the world loses out.
Since the Oak started we have operated with a phrase Building Communities that are rooted in God and Serving the world. This is a great set of things for us to do.
We have felt, to focus us as a church on the main thing, on Jesus. To set out a vision that is so clear that Jesus is central to everything that we do. Our vision is to see the world transformed through Jesus' power to change lives.
However it's even more than that, it's not our vision but God's that we want to join in with. So our vision is...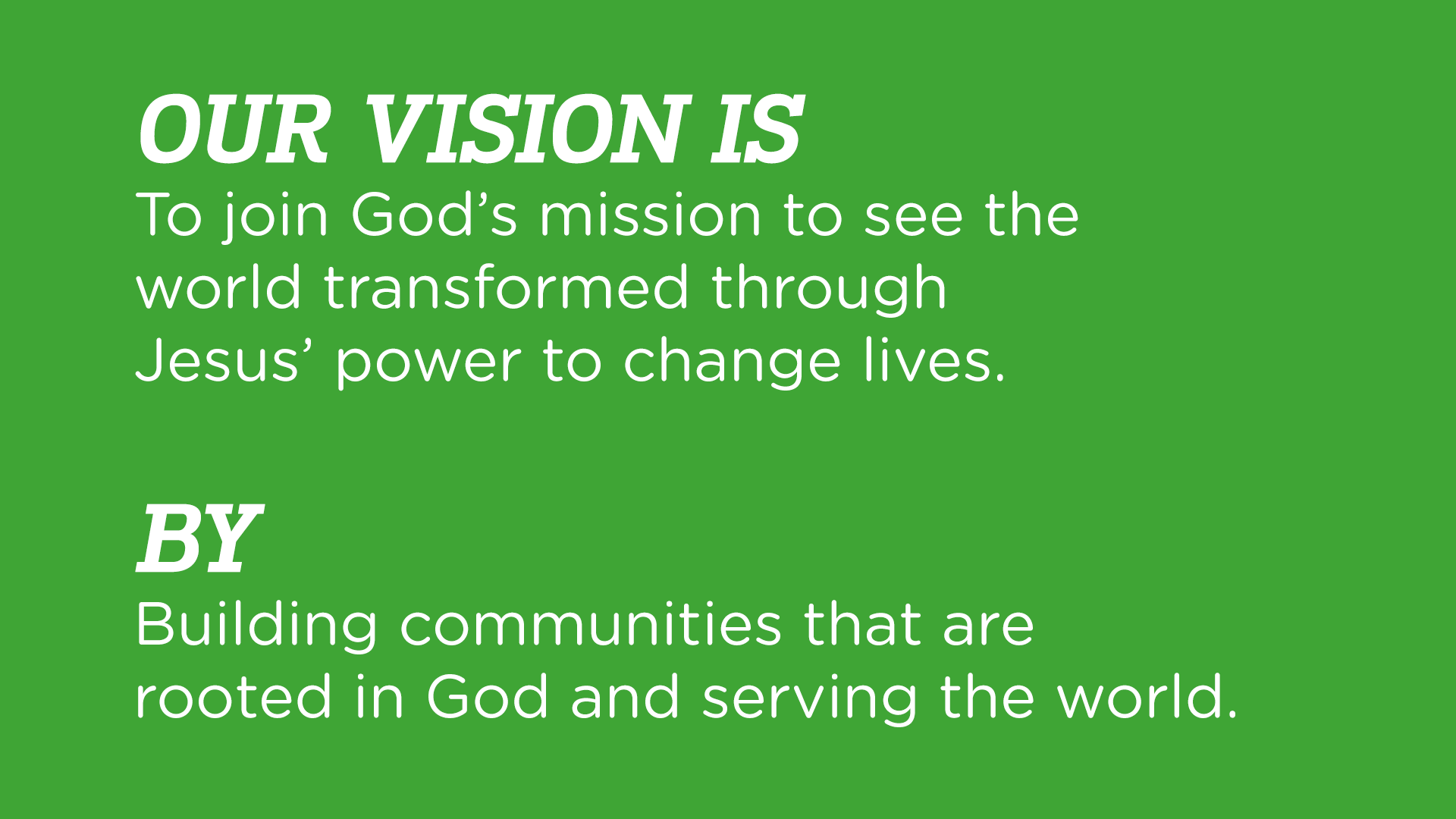 To help us keep focused on that, and to unite us uniquely as the Oak Church, we have also defined some values: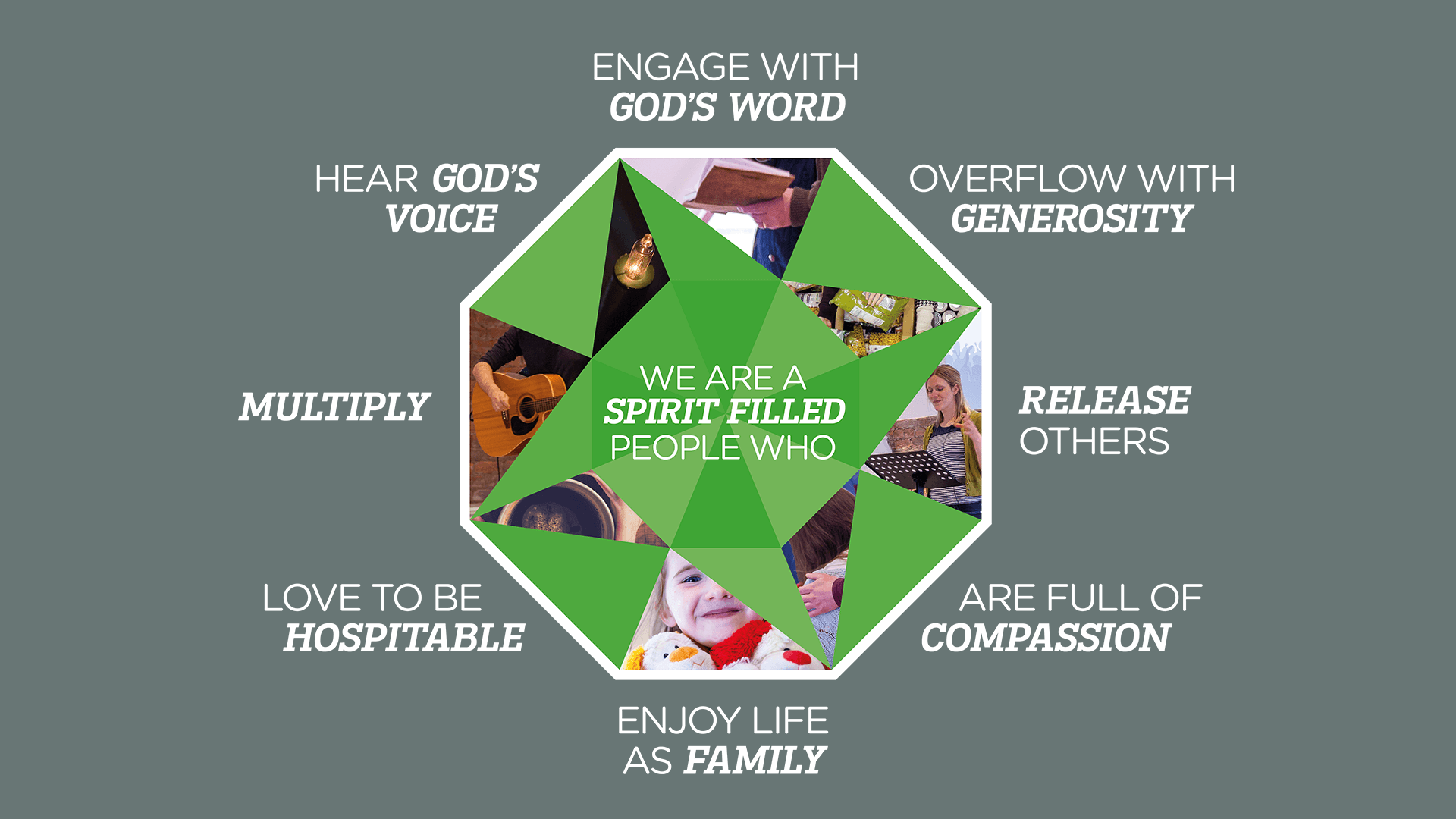 This may not seem like anything new but hopefully it'll help us know what the main thing is and what we value as The Oak.
As we grow, as people become Christians, as people are getting healed and joining us, we want to help them know who we are and what being a Christian looks like.
Specifically, over this next year we are going to be creating space all over the church for new things, for new people and for new leaders everywhere.
Over the past year we have felt prompted by God to seek God for more and have begun to feel a sense of going again. We have increasingly heard God's heart for this area and our part to play in seeing His kingdom come here. That we are to start multiplying again. 18 months ago Andy McCulloch stood in this spot and prophesied that we should go to Bradford and do things differently. He didn't know that Chris and Lisa Mason had already moved and have been asking God why.
We then asked Tim and Vicky from Christ Church Manchester to come to our Staycation because we wanted to hear more from those who have walked this path of multiplication. We are now feeling called by God to do something.
As we planted The Oak, we carried in us a desire to see gatherings right across West Leeds and East Bradford. We are gathering people from all across this area but we are not gathering all over it. We are now gathering in Oak Communities (our small groups) right across West Leeds and East Bradford. We want to see our Oak Communities multiply from four, to five, to six throughout 2019.
We want to Multiply our ministries too across 2019. We have received grant funding from Catalyst to multiply Connect Lunch into Bradford and are starting to think what it might look like to also multiply other areas of ministry too.
Finally, we believe God is also leading us to multiply our Sunday Gatherings. Over the coming year, we will prayerfully begin to multiply our Sunday Gathering into Bradford South East. This will be a second gathering of The Oak (similar to having two gatherings on a Sunday in the same building) - this isn't a whole new church plant! It'll be The Oak Church, just gathering in Bradford, the same heartbeat, the same vision! It's likely our gatherings will look a bit different and Bradford is likely to start fairly small and gather in the afternoon. But we will be one church family. One church outworking the new vision above!
Love one another
This family is big, proper big. It's next door, it's on the street opposite, in the office next door, in the town and village just down the road, in fact, it's all over the place. The church is mega.
Next week I'll get to travel with two friends, one from The Oak and one from another church, to see a bunch of brothers and sister in another country. We'll pray together, prophesy over each other, laugh and cry together, teach and train one another, share stories and struggle through the joy of language challenges together.
But why? Why do it?
Because we aren't an organisation or a company, a business or a social enterprise. We are a family. And a family stands by each other, cheering each other on, giving it's all for each other.
That stands for the family global and the family local.
I love our local family, The Oak. The people are just astounding, just astounding!
I love our kids and youth workers and their passion and skill. I love our worship leaders and their devotion. I love our hosting teams, connect lunch teams, coffee & chaos teams and every other team in the church giving of themselves for the family business - to join God's mission to see the world transformed through Jesus' power to change lives!
The church isn't about styles, models and ways of doing things. It has no perfect method or defined way of doing things - it has people, different people, laying down their own ways of doing things for the joy of being family together. A family gathered around Jesus. A family transformed by Jesus. A family cheering on those around them, taking joy from seeing people thrive, and doing the simple things well - loving one another.
Jesus said that the world would know we were His by how we love one another (John 13:35). That's the church, right there, in all her beauty.
Today, I take joy in being in God's family surrounded by people who, despite my weirdnesses love me, love each other and love God.
Take a moment to be thankful today, you are richer than you think!
Pick-a-treat - Subverting halloween
"Mum, will I ever be allowed to go 'Trick or Treating' on Halloween?" This was the whiny refrain I had heard from the youngest of our two children for a few Octobers now; a familiar request heard in many a family, I'm sure. Why not, though? Is it so bad to let your child join in all the fun, the dressing up and the FREE SWEETS..? I know my boy is certain that this should not be an issue, and in his head it's ME that is the evil one, being so strict and mean.
Since our son was 2, when I made a full commitment to following God, I have had to revisit my responses to some seemingly harmless cultural norms. Halloween and the ever-popular trend of 'Trick or Treating' has been one of these quandaries. I know my child has no intention to do harm, or be cheeky or rude to people; all he cares about is being able to join in. I know that he loves to dress up, and that he has a yearning fascination with what the experience of trooping round our neighbourhood in the dark, with countless other kiddies and their parents, would be like. The trouble is, I don't feel right 'celebrating' something which is rooted in darkness, and mischief. Halloween and all it really stands for, just doesn't sit right with any of the values God has placed on my heart, or what is written in the bible. And even if it's just going round to a few friends houses and chiming 'Trick or Treat' to them - somehow it seems like begging; I don't want to be any part of it.
This year though, I had a little moment of inspiration: what about if we were to take treats to our neighbours instead? This germ of an idea took root. I mulled it over a while, and made an offer to our boy:
"I will take you 'Trick or Treating' on 2 conditions: 1) that you let me dress up in a costume of my choosing, and 2) that we take treats and give them out."
It took him all of 2 seconds to ponder this before responding with a resounding "Yes!", and he scarpered off to resurrect his self-made costume, leaving me with the task of putting together a costume that could be as light giving as possible and gathering some loot to hand out to Farsley folk.
On the evening of October 31st, Luca and I trooped off in our somewhat contrasting costumes, he with his empty sweet bucket, and me with my overflowing bags of treats, (each one with a #tsunamioflove token stashed inside). I had briefed him on what we would do: only knocking on doors of people we actually know; he could choose the route; I would deliver packages of treats to houses without knocking on doors too. He was up for that, and under his (rather grotesque mask) was grinning happily.
The neighbours and friends who we called on were very pleased to see us- all of them commented on our costumes (the brightly lit umbrella was a hit!) and universally people were astonished when he said "Happy Halloween" quickly followed by my "Pick a treat" as I thrust the bucket of goodies towards them. "Wow, I wasn't expecting that!", "Oh that's a nice change", and "That's different, how lovely?!", were some of the comments made. We managed to spread the message of 'giving and sharing' to a few other folk, who had their doors wide open ready to receive the troops of ghoulishly dressed children; my boy being delighted at how his bucket was being filled as I emptied mine out.
Every so often there were times when there was just the two of us, walking side by side, and the doorways we walked past were firmly shut, lights off. I asked Luca to choose houses to post treat bags through, and as I squeezed them into the letter boxes I felt prompted to pray a quick silent prayer for the people of that home: that they would somehow feel loved and noticed, and not afraid.
As we walked between houses and streets Luca remarked that he felt "So happy, this is the best EVER" and I took the opportunity to share with him what occurred to me: That it was interesting that as we are blessing others by giving freely, that in turn we are also blessed - not just by the physical candy rewards - but in the good feelings that get stored up inside. It's a simple message and I'm not sure exactly how biblical that part is, but I'm certain that by being a 'Light in a dark place', by doing something unexpectedly kind, and literally showing love to our neighbours, those are most definitely things Jesus called us to do whilst being in the world.
""Here's another way to put it: You're here to be light, bringing out the God-colors in the world. God is not a secret to be kept. We're going public with this, as public as a city on a hill. If I make you light-bearers, you don't think I'm going to hide you under a bucket, do you? I'm putting you on a light stand. Now that I've put you there on a hilltop, on a light stand—shine! Keep open house; be generous with your lives. By opening up to others, you'll prompt people to open up with God, this generous Father in heaven." - Matthew 5:14-16